The Best Business VoIP Provider in Ottawa. Proudly Serving The Capital's Business Community!
Ottawa's Business VoIP Phone Solution.
Reliable & Secure. Dedicated Premium Support.
Part of the Community!
Your Local Provider for Business VoIP Phone Solutions in Ottawa Ontario is Here! Working with business of all sizes, from entrepreneurs and large corporations, and everyone in-between, we are fortunate to be part of the Community! We are a truly Canadian business through and through!
Stay connected with confidence in our solution for your businesses VoIP office phone system. Keep your business reachable, scalable and seamlessly secure with our future-ready communications platform.
Simple User Portal
Manage your entire communications platform, from any connected device.
Custom Numbers
Choose from a wide range of local, toll-free and branded numbers to suit your organization's needs.
Easy Administration
Easily manage your users, teams and auto-attendant settings to fit your changing business needs.
Concrete Security
Hosted in Geo-Redundant Canadian data centers ensuring reliability, with 99.99% upkeep backed by SLAs.
Auto-Attendant
Designate and direct incoming calls to ensure they reach the desired department the first time.
Premium Support
Dedicated support with rapid implementation, regular updates and a complete knowledgebase.
Simple Tools For Modern Businesses
Call. Text. Manage.
Everything you need to get work done and connect with your customers faster, easier and in one simple VoIP Office Phone platform.
Conduct business - help your customers and sell more on the go with a truly mobile business office phone. Take your phone with you anywhere you need it.

Manage your users easily in a simple user portal.

In addition - allocate your resources effectively and save your organization money by having a tailored suite designed to meet your specific needs.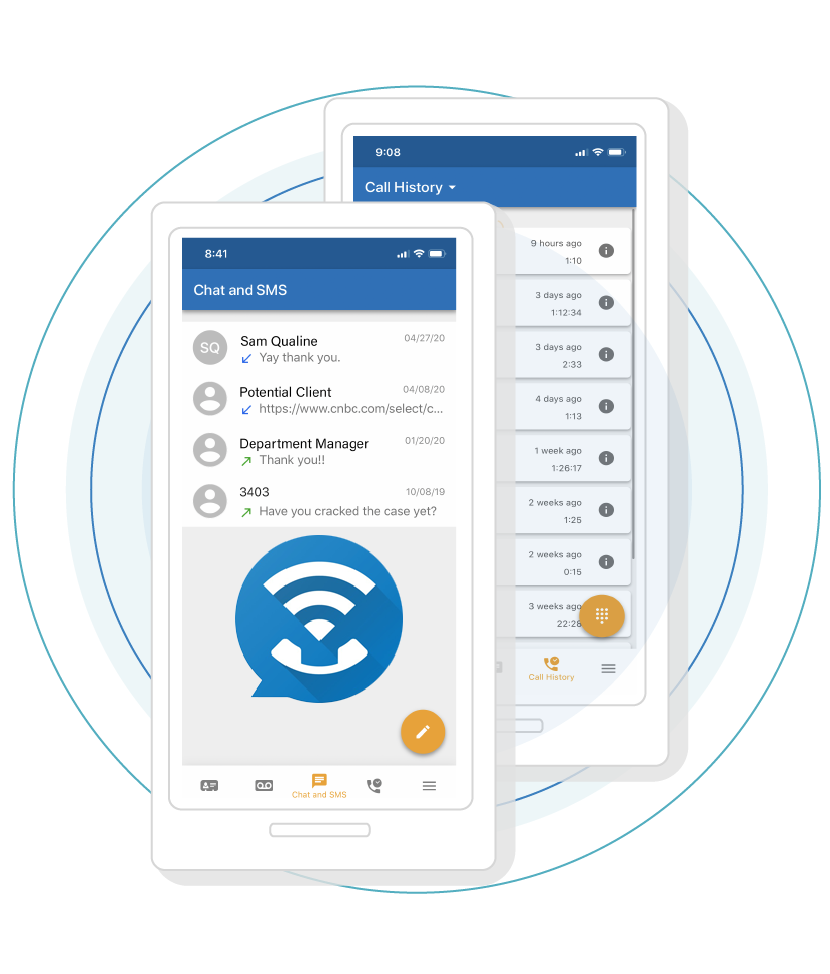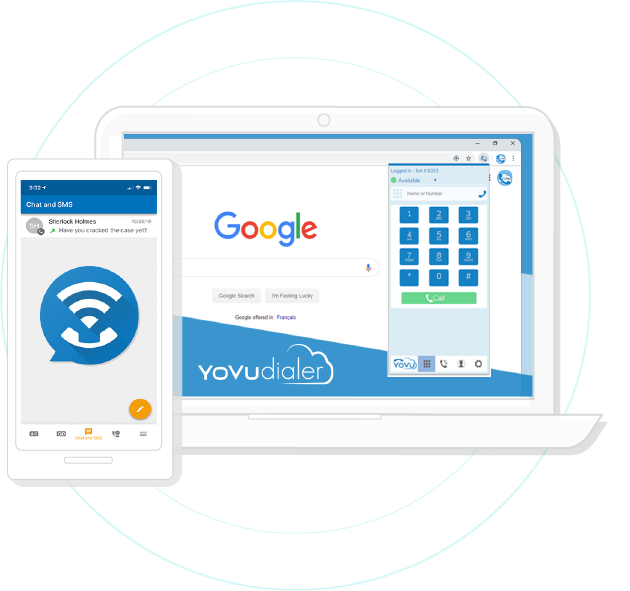 Tools Designed For You
Integrations For Smarter Business
YOVU integrates and streamlines your business pipeline with popular tools such as Chrome, Salesforce, Microsoft Teams, G-Suite, and we're always adding new ones.
Plus, if you need a custom integration, let our developers know and we can create a custom integration solution using our API.
Seemless Integrations Ecosystem
Unite your CRM and phone system into a trustworthy communications ecosystem. Get closer to customers and make lasting connections that work better for you and your business.

Native integrations blend seamlessly improving accuracy and reducing downtime and manual reporting errors while delivering customizable options for your business needs.

Complete integrations are built right into your phone service and are ready when you are. Plus support technicians and developer insights are here when you need them!
Built For Small and Growing Businesses Alike
Grow Your Business With A Powerful Communication Toolkit
We built our platform to deliver powerful unified communications tools, mobility applications, and robust calling features straight to companies that need it. In addition, the YOVU platform is both robust and incredibly secure, ensuring a future-proof offering for a range of use cases, industries and platform requirements.
The Team at YOVU is phenomenal. They are right there at your fingertips to assist with any matter whether it be an emergency, broken phone or technical question. They're also quick to respond to service, an added relief when help is needed. Keep up the great work YOVU!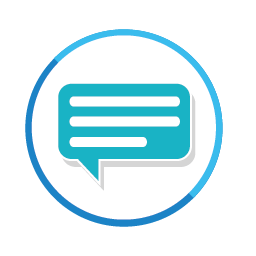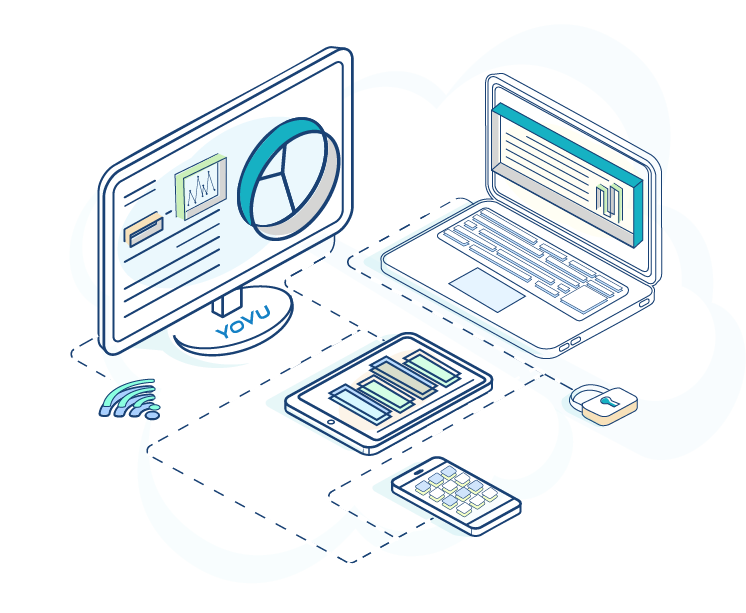 Our customers are entrepreneurs and large corporations, and everyone in-between.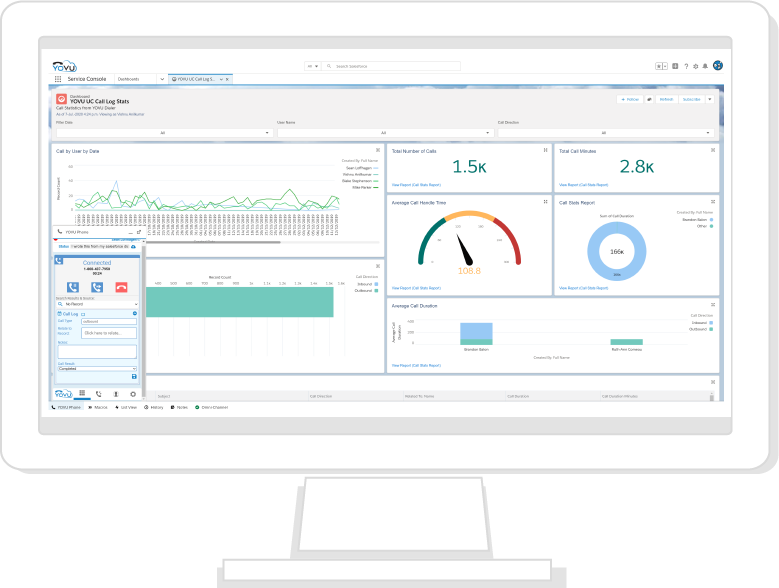 Simplistic Productivity At Heart
Empower Your Sales. Exceed Expectations.
See inbound calls associated with an account when a customer rings or when you answer their call.

Make outbound calls quickly from within Salesforce in a click triggering an instant dial.

Instantly access call details and analytics to understand your team and employees quickly.

Enhance customer experience with the easy transfer and call switching within Salesforce. Initiate or cancel call recording live and keep recordings in their account.

Report and log call activities from within Salesforce and within an active call. Understand each conversation regardless if you were on the line and give your managers a greater understanding of performance.
Our Stories & Latest News
Call better. Work smarter.
Get a personal demo, or explore our features highlight to learn more about our platform.
We believe that you do your best work with solutions made for your business.
See how we can work with you to build a plan that meets your needs and your budget.
We're here to help. Let's get started.
Start Conversation
Our Sales Experts are ready to help.
Begin Conversation
Support Inquiries
Please contact:
1-844-685-1001
Find the answers in our online support database
MY YOVU

⊳
Let's Chat