VoIP phone systems
Stay connected with confidence in our solution for your business VoIP phone systems. Keep your business reachable, scalable and seamlessly secure with our future-ready communications platform.
Conduct business – help your customers and sell more on the go with truly VoIP phone systems. Take your phone with you anywhere you need it. Manage your users easily in a simple user portal. In addition – allocate your resources effectively and save your organization money. Have a tailored suite designed to meet your specific needs. Business VoIP Phone Systems make everything you need to get work done and connect with your customers faster, and easier. Here, we provide a quality, reliable and secure communications tool for our customers backed. We achieve that by friendly and knowledgeable customer support specialists. As a comprehensive Business VoIP phone system, and accessible whenever and wherever you need us. Our company would like to share some reasons why we are different from other. We also want to share why that should matter to you and your business.
We were once part of the "Big Guys" in the telecom industry. Besides, we know what it takes to fulfill the needs of business communications and ensure our clients are taken care of. Yovu also know how frustrating it can be to wait for service when things aren't running so smoothly. Waiting in queue, for callbacks and technician wait times can be infuriating. If you have ever waited endlessly on hold or have been bounced around from one 'specialist' to another, you know what we mean!
Advanced Phone Features.
Business Phone Solutions. Future Ready.
Integrated Communications Tools.
Mobile Applications. Advanced Calling Features.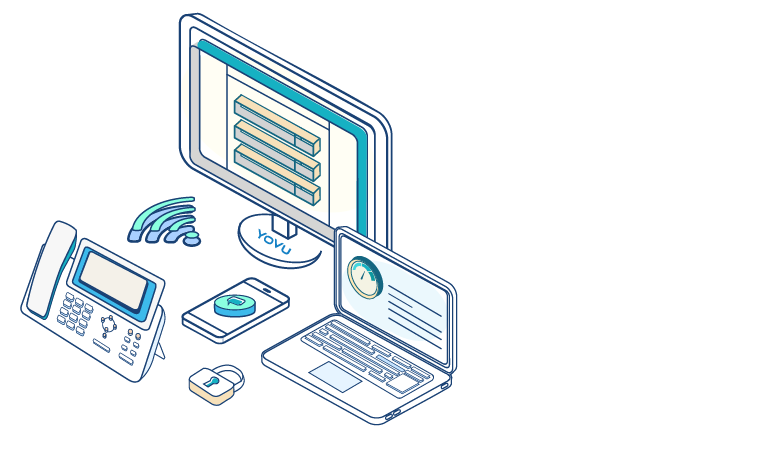 The Business Phone System For You!
Making it easier and more affordable for your business to communicate with the most up to date VoIP phone features. More than just a small business phone system, YOVU is a robust business VoIP communication platform delivering powerful Unified Communications tools, mobile applications, and extensive calling features. We are the VoIP phone system solution for Canadian businesses.
Business VoIP Phone Features
Latest Updates!
We continue to update our Standard and Advanced VoIP Phone Features and we don't want you to miss out on the latest, so we're keeping it right here!
Future Ready. Always Upgrading.
Twice a year, we do major system updates and upgrades based on direct needs and feedback from our clients.
The sky (or clouds!) are the limit! If there are office phone features you need to better run you business and don't see them on our roster, let us know and we will get it on the wish list for our developers!
A Truly Canadian Business Phone Solution
We offer numerous calling and routing VoIP phone features to help ensure your organization's communication is seamless, reliable and custom to your needs. Founded and Operated in Canada, we are here for you. Always.
FEATURE SPOTLIGHT
VoIP Phone Features that enhance communication for your business
Make and receive calls from your mobile device with your contacts synced from your desk or corporate directory

Access Instant and SMS and send and receive messages via your business number to customers and colleagues

Multi-ring your mobile device with your desk phone or web dialer so you never miss a call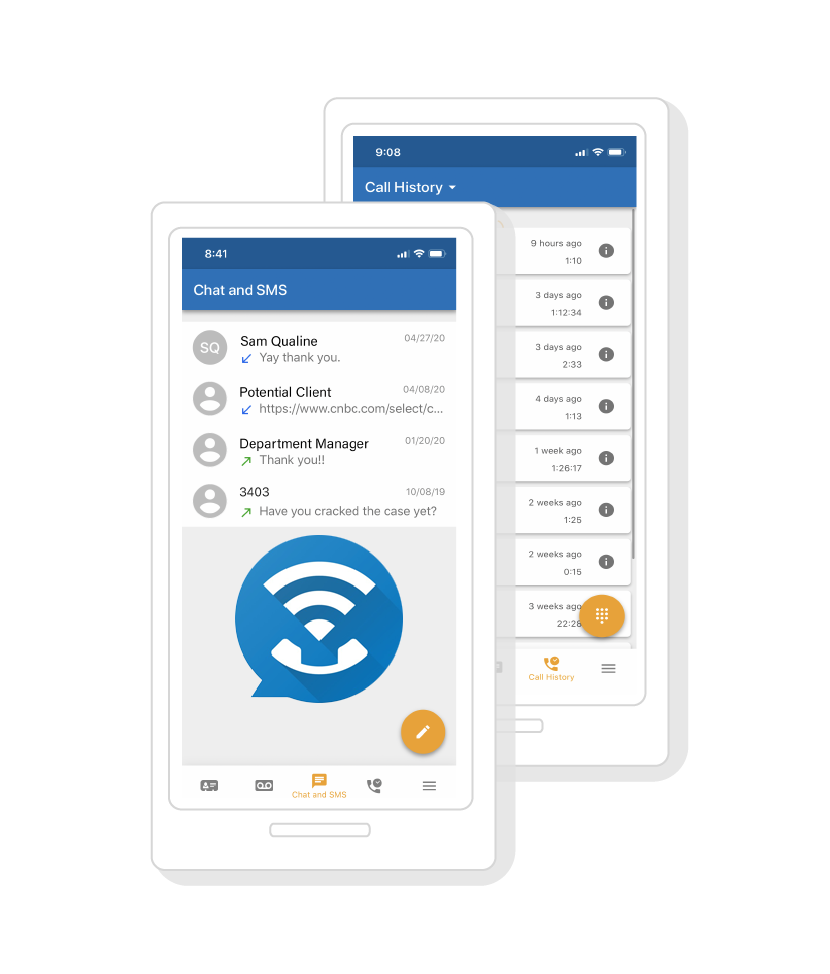 Call Control
With YOVU's VoIP business phone features, you can expect a quick, seamless setup, easy deployment and the ability to customize and manage users with ease.
Messaging & Conferencing
Easy productivity tools to address challenges that businesses of all kinds may find. We remove the barriers that many organizations have with our competitors and older-systems to ensure that our solution fits your needs.
Access your phone system on your mobile device easily by downloading the SNAP Mobile app. Have your contact details and directory on your mobile and use smart integrations like Siri and speech-to-text SMS options built-in.
Send messages from your business number(s) to other users, customers, vendors and partners and keep your personal number private.
Full phone functionality direct from your desktop to make and receive calls, access company directories, voicemails and the portal.
Call Centre & Productivity
Lead your team with confidence using advanced tools built to encourage team building, employee growth and management success goals.
Reliability & Security
Automatic data backup and redundancy built into our platform is something that we take pride in. YOVU provides businesses with the best cloud-based phone system that enables secure and encrypted calls.
YOVU's platform is hosted in Geo-Redundant Canadian data centers to ensure the most reliable, secure and scalable cloud-based solution designed for any call volume.
Our encrypted and dual-redundant servers are located in various locations in Canada, ensuring that we retain 99.99% SLA upkeep.
We are equipped with enriched protocols allowing for customized security needs based on your needs (developed and ensured on a client by client basis).
Logs and historical data is regularly backed up to ensure you can access it when you need it most. Long term storage is provided to our customers using AWS S3.
3rd Party security audits ensure we are following industry best practices.
Integrations
In addition to our VoIP office phone systems, we also offer a number of synced, custom integrations built to help support your business, and make your YOVU account more powerful.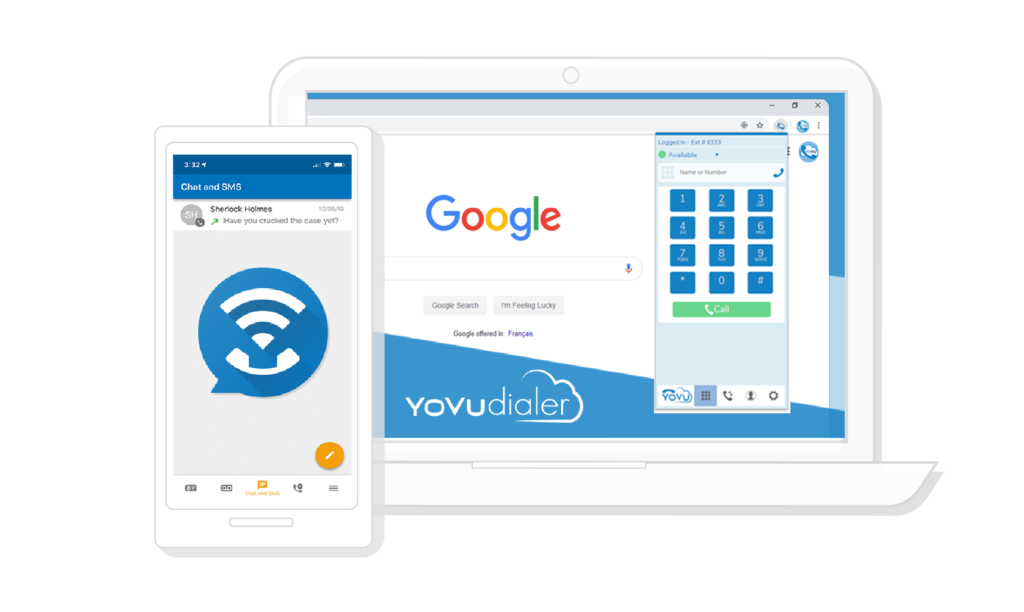 Computer Telephony Integration (CTI)
Increase productivity and boost customer satisfaction with the ability to communicate from all your active devices. Work from anywhere with a phone system prepared to follow you and operate from your desk phone, webphone and on mobile.
Contact Synchronization
Your company directory is accessible on all of your devices and synced via our servers to allow you to access contact details where you need it.
One-Click Setup
Activate an integration quickly from within your portal or have our system engineers support you with easily accessible tech support. Manage users by provisioning their settings in your admin portal.
Custom API
Our development team will work with your developers to build deeper integration into your CRM.
Call Better. Work Smarter.
We believe that you do your best work with solutions made for your business.
See how we can work with you to build a plan that meets your needs and your budget.
We're here to help. Let's get started.
Start Conversation
Our Sales Experts are ready to help.
Begin Conversation
Support Inquiries
Please contact:
1-844-685-1001
Find the answers in our online support database
MY YOVU

⊳
Let's Chat