YOVU's CTI Dialer
Salesforce Phone Integration
Leverage the telephony capabilities of Salesforce
with our powerful Business VoIP Phone System.
Screen Pop Accounts

Auto Logging of Calls

Click to Call

Record & Playback Calls inside object

Call Analytics and more...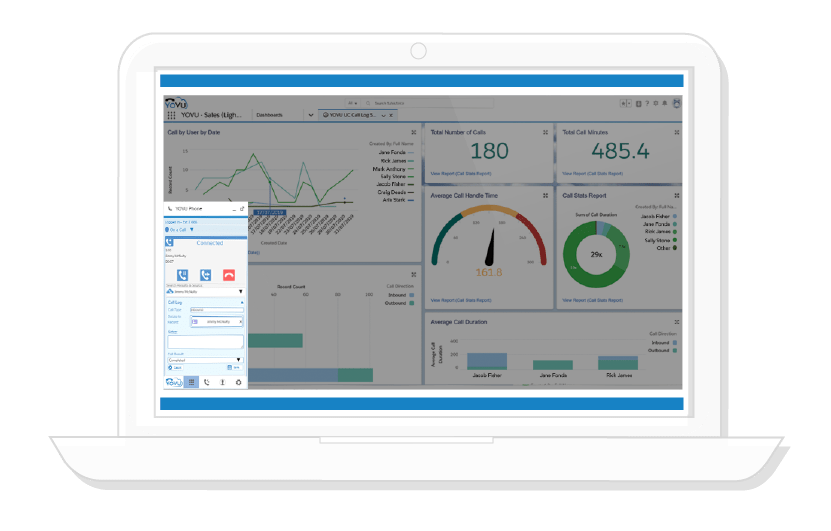 Streamline your business workflow and get more done with YOVU's Salesforce Phone Integration.
Skyrocket sales and productivity and reporting with complete Salesforce integration built right into our VoIP phone service. Our turn-key solution to power your CRM.
Using YOVU's Salesforce Phone Integration, you will connect with your clients with instant access to their accounts, call logs and robust reporting.

Talk to an Expert
* Get it from the AppExchange or Request a Demo today.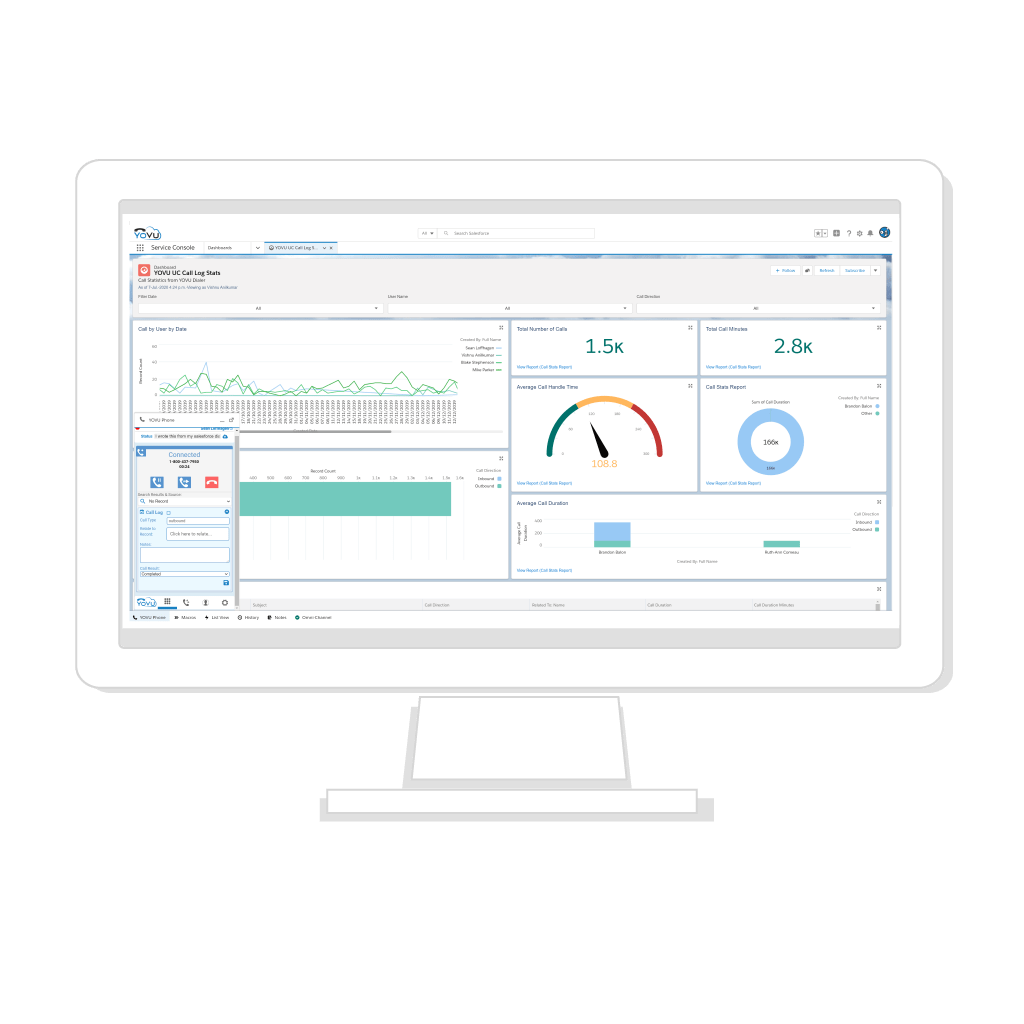 YOVU + Salesforce Phone Integration
Complete Customer Connection
The YOVU CTI Dialer is the ultimate in Salesforce phone integrations. Working with customers is more personal, increases productivity and allows real-time results.
CTI Salesforce Integration
Maximize your VoIP for business investment with YOVU's Salesforce Phone Integration.
Know who's calling with access to their account before answering a call, log account activities live and remain in account following the call.
Activate call recording and see any activities associate with the call all from one interface. Plus, click to call from account and never skip a beat!
Live Updates
Stop waiting for status updates on phone calls for days from sales and support team members.
Improve Accuracy
Increase productivity and gain more visibility within your organization with improved metrics and reliable accuracy.
Stay Current
Communicate with customers and leads with the confidence that you have the most relevant and recent data on their account.
Click to Call & Screen Pop
Screen Pop

Inbound Calls associated with an account will show you who's calling with access to all the details on their account. Customize this notification to activate on ring or on answer.

Click to Call

Make calls directly from a client's account on a single click, remaining embedded in one tool. Save time by capturing the results of these calls instantly in their account.
Call Recording & Call Control
Call Recording

Listen to previously recorded calls directly from the account. Give sales and customer service managers insights through easily accessible call playback directly within Salesforce.

Call Control

All the power in one tool. Transfer, hold, end and switch to a second call all from within Salesforce.
Improve Accuracy and Eliminate Manual Processes
Activity Log

Review complete call history, reports and enter new data from within an active call. Stay in the account when the call is finished to complete logs on the spot. Log calls in any Object within focus logging. This unique integration allows admin, customer service and team members the ability to leverage the time-saving feature.

Call Analytics

From within Salesforce, you have instant access to all call details, history and recordings. Customize the experience to suit your unique business requirements by leveraging dashboards and reports. Understand who is achieving the most calls on your team. Engage in gamification for increased activity to help propel productivity.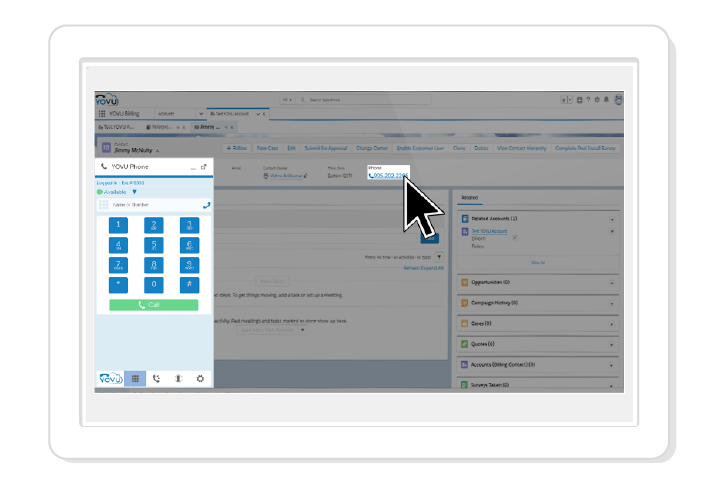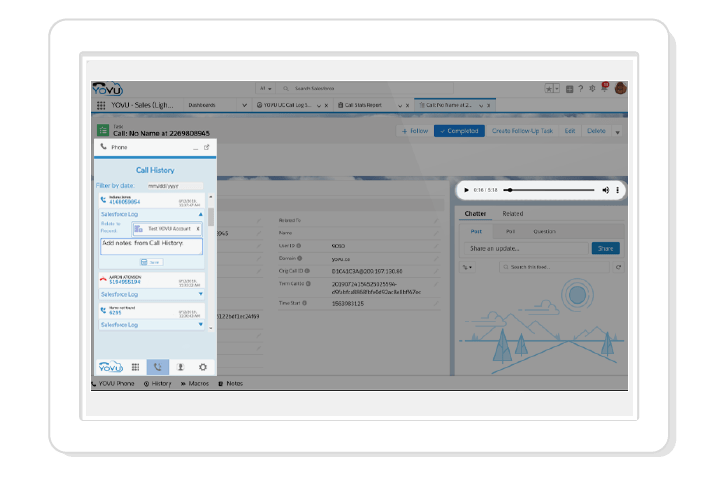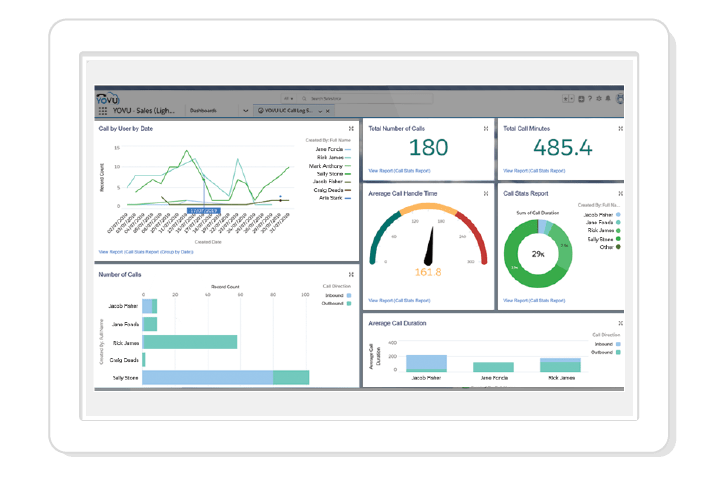 YOVU CTI - Salesforce Integration
How it Works
Any New or existing YOVU client with Salesforce Lightning account will automatically have access to our Salesforce phone integration.
Customized profiles and softphones can be tailored to the specific needs and role of the user. Configure and update search fields directly from your dashboard.
Accurate Records
Achieve detailed call records to ensure all users within the organization have the most recent data on sales opportunities.
Real Data
Eliminate manual processes and capture raw data that leads to better business and operation decisions.
We're here to help. Let's get started.
Start Conversation
Our Sales Experts are ready to help.
Begin Conversation
Support Inquiries
Please contact:
1-844-685-1001
Find the answers in our online support database
MY YOVU

⊳
Let's Chat