Microsoft Teams Integration
Stay connected with YOVU + Microsoft Teams Integration. Keep your business reachable, scalable and seamlessly secure with our future-ready communications platform.
Get a Microsoft Teams Integration of our Cloud Phone System. See how we can work with you to build a plan that meets your needs and your budget. Tell us a little about yourself to get a full personal business phone product demo from our business specialists. We can't wait to show you our powerful, yet, user-friendly business phone system! Schedule your business phone demo today. Business VoIP Phone Systems make everything you need to get work done and connect with your customers faster, and easier.
Here, we provide a quality, reliable and secure communications tool for our customers backed. Hence, we achieve that through friendly and knowledgeable customer support specialists. As a comprehensive Business VoIP phone system, and accessible whenever and wherever you need us. Our company would like to share some reasons why we are different from others. We also want to share why that should matter to you and your business.
First, we know what it takes to fulfill the needs of business communications and ensure our clients are taken care of. Secondly, Yovu also knows how frustrating it can be to wait for service when things aren't running so smoothly. Waiting in queue, for callbacks and technician wait times can be infuriating. If you have ever waited endlessly on hold or have been bounced around from one 'specialist' to another, you know what we mean!
Microsoft Teams Integration
Leverage the power of Microsoft Teams
with our Business VoIP Phone System.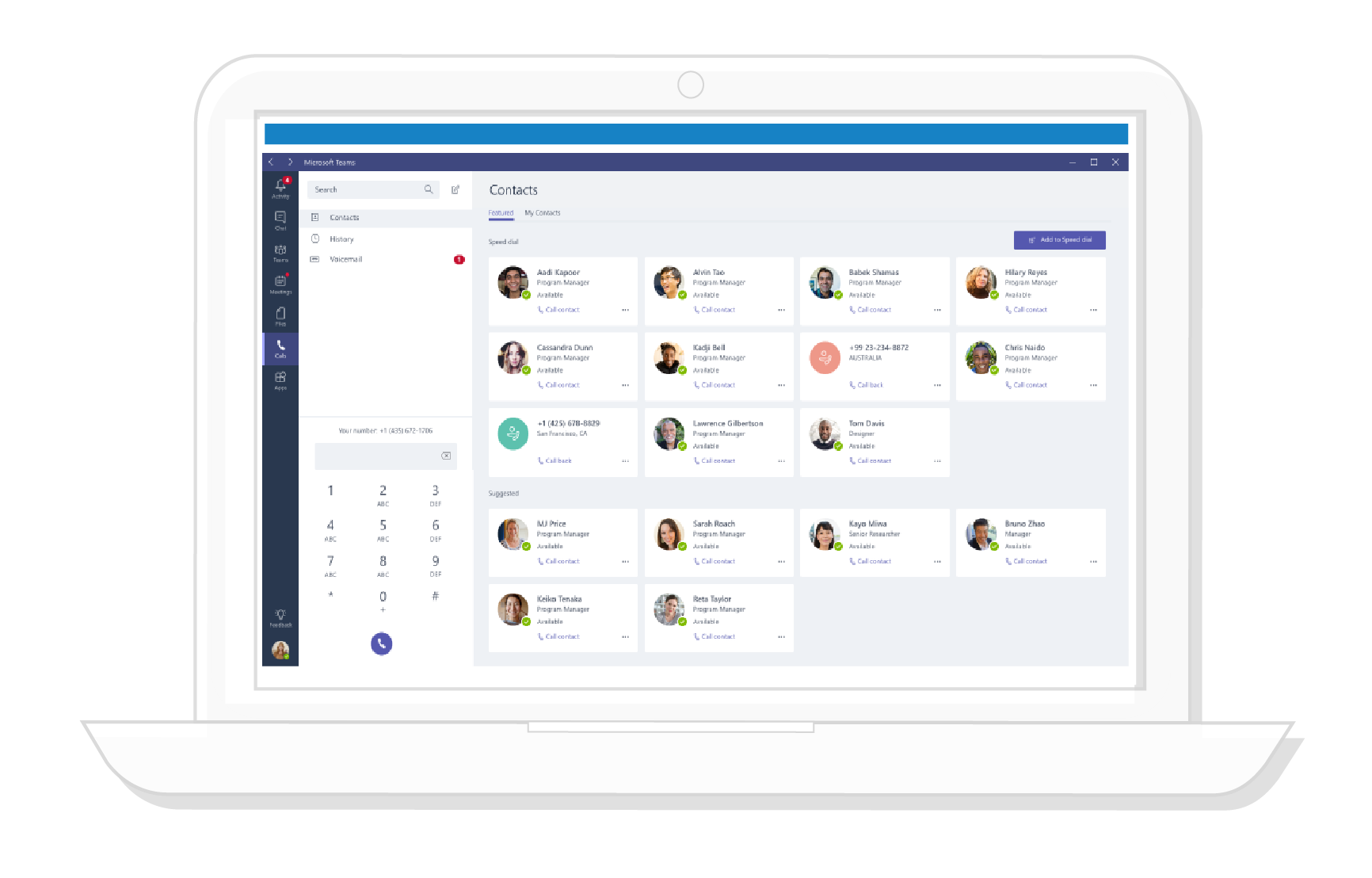 Click to Call

Chat & Meet

Collaborate & Conference

Access Directories and more...
Streamline your business workflow and get more done with YOVU + Microsoft Teams Integration.
YOVU + Microsoft Teams Integration
Communicate More Effectively
YOVU paired with Microsoft Teams brings everything together in one shared workspace. Make and receive calls, chat, meet, share files and work with relevant business apps.
Work from Anywhere
Make and receive calls on any web-connected device.
Microsoft Teams can be installed on any PC, Mac or mobile device. Your team can make and receive work calls leveraging YOVU Office Phone and Teams wherever they are.
Built-in Security
Enterprise grade encryption and security are built-in. The YOVU Teams connector provides end-to-end encryption of both signalling and media while managing SSL certificates for each customer.
It provides fine-grained access control to the YOVU connector calling platform and client facing control to revoke access to the Microsoft 365 tenant at any time.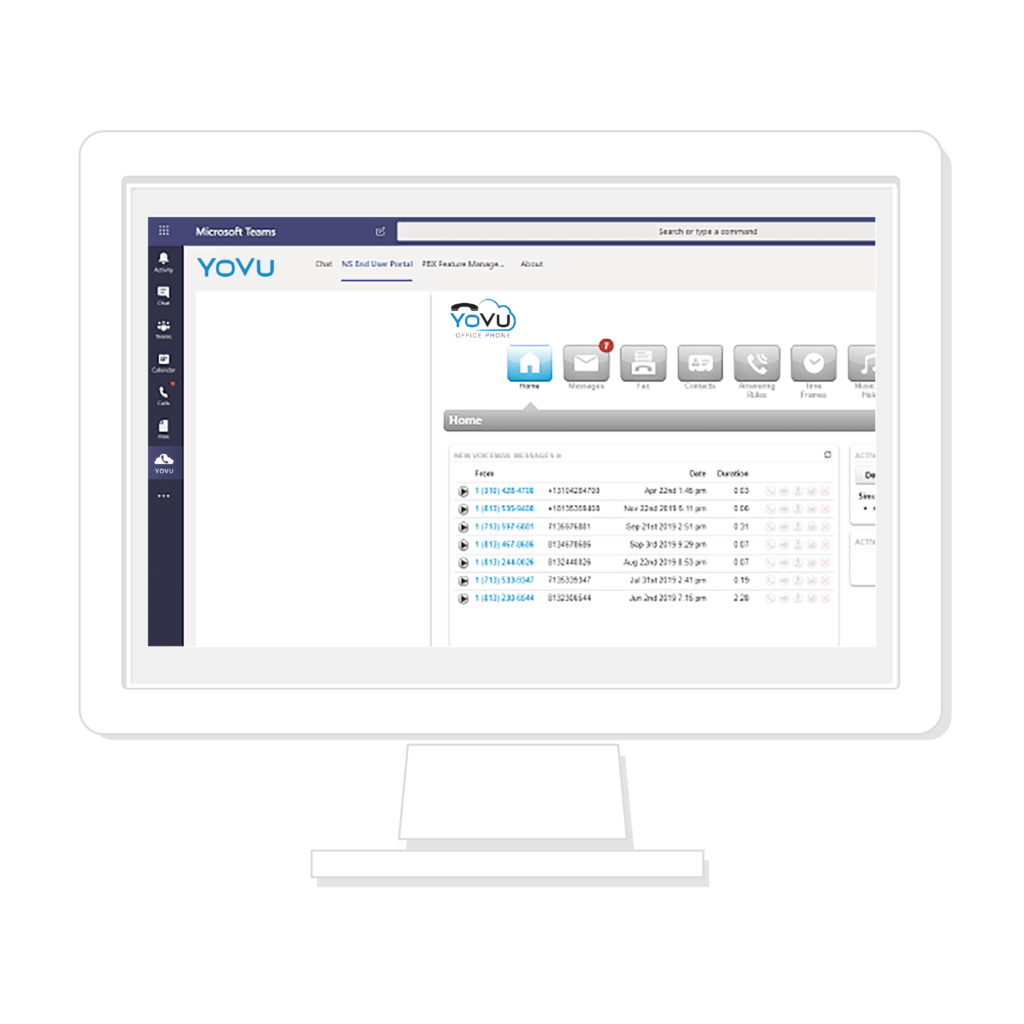 YOVU + Microsoft Teams Integration
Team Work
The YOVU Teams Connector makes meeting more personal, increases productivity and allows real-time collaboration.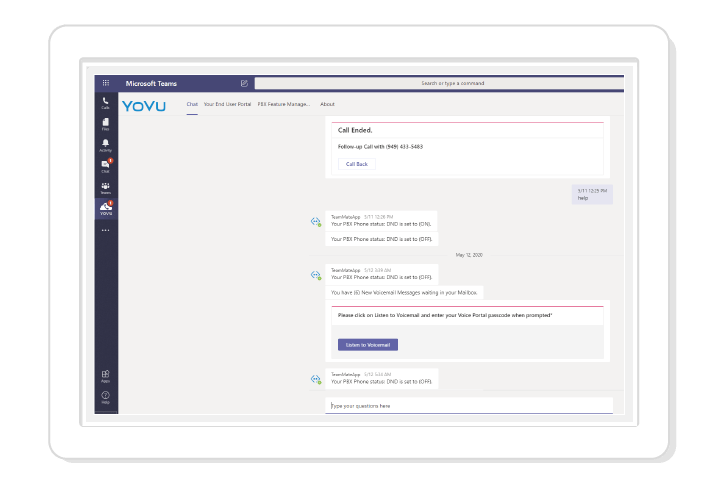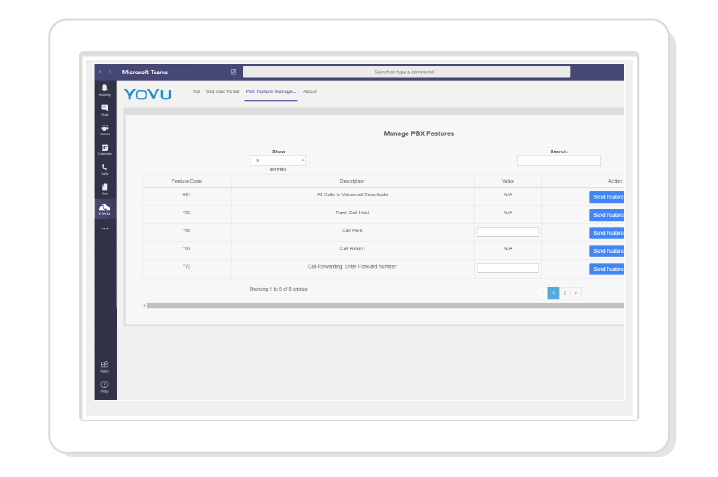 Reduced Application Flexibility
Simplified IT in the Cloud delivers flexibility.

Reduce the number of applications needed for users to get the job done.

Increase working flexibility and efficiency.

Lower support costs and higher productivity.
Increased Collaboration & Connection
YOVU Teams Connector brings Microsoft Teams to life.

Voice enabled collaboration has increase by over 50% and is becoming an asset to company inclusion.

80% of an employee's time is spent collaborating with 62% connecting to meetings using mobile phones.

Business goals are more quickly achieved when people enjoy working together.
Microsoft Teams Integration
How it Works
Any New or existing YOVU client with a Microsoft Teams account will need a Microsoft common area phone license.
The YOVU Teams Connector converts the Microsoft Teams built in SoftPhone into a registered endpoint on the YOVU Office Phone network.
Any number registered with YOVU can be setup to ring to a Teams client or multiple Teams clients. When dialing out using Teams, it connects to the YOVU network. Calls are maintained and secured with our Canadian infrastructure. Get the best of both worlds when you combine YOVU and Microsoft Teams.
We're here to help. Let's get started.
Start Conversation
Our Sales Experts are ready to help.
Begin Conversation
Support Inquiries
Please contact:
1-844-685-1001
Find the answers in our online support database
MY YOVU

⊳
Let's Chat