Ways to Use Business VoIP for Affordable and Effective Marketing.
For small businesses, marketing is critical. As a small business owner, you want to make sure that the marketing methods you choose will reap the most rewards and that what you spend on marketing will be justified.
The primary advantage of switching to VoIP is cost. VoIP allows small businesses specifically to use proven and effective marketing tactics. These methods are far less expensive to use with VoIP than with a traditional phone system.
VoIP features are affordable and ideal to increase sales, and the success of campaigns can be tracked to easily find out what works and what doesn't.
Method #1: Cost-Effective Sales Calls
Cost-effective calls are the primary benefit of VoIP for small businesses, saving companies on average, 30 – 50% in telephone costs. With the inexpensive rates for international calls, savings are up to a whopping 90%.
VoIP saves costs not only because calls are affordable, but also because there is no equipment needed to purchase or maintain. With cloud based technology supported as well as YOVU Office Phone, businesses do not need to spend additional resources for its upkeep.
When done right, calling prospective clients is still one of the best and most effective marketing methods around, especially for small businesses.
Method #2: Click to Call
Statistics show that the majority of calls to companies are made via mobile devices. Small businesses must take this into account when planning their sales and marketing strategies.
Click to Call increases website conversions; you'll get more phone calls from potential clients than you would without it.
For the small business especially, it is important to make it as easy as possible for people to get in touch with you. Click to Call eliminates the need for your website visitors to jot down your phone number to call later. It acts as an encouragement for potential customers to call you instantly while they are still on your website.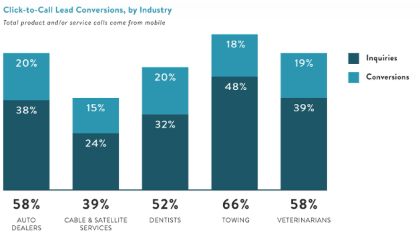 (Image Credit: Neil Patel, https://neilpatel.com/)
Method #3: Track Advertisement Success Rates
VoIP allows businesses to utilize various telephone numbers. This offers two primary benefits:
Local numbers can be assigned for geo-specific marketing projects, and
Dedicated numbers can be used as a marketing tracking mechanism. Small businesses can assign different phone numbers to different advertisements. When a customer calls a number, it indicates which advertisement was effective. Tracking which advertisements have a higher response rates and obtaining more insights around what customers respond to impacts the success of marketing initiatives, and therefore, profit.
Method #4: Text Marketing
Text messaging on average has an open rate of 98%. When you compare that to email marketing, with an average open rate of 20%, text is a far more effective marketing method to have a message read.
VoIP technology allows companies to assign a number to a user instead of a device. All business conducted via VoIP texting can be reported on, which is helpful for analysis and making continual improvements.
Text marketing is more effective than other methods and it's also a lot cheaper using VoIP, making it ideal for the small business.
Ideas for using VoIP text in marketing strategies:
As a way for potential customers to get in touch
Increase engagement by setting up automated text responses
Send bulk messages
Get feedback and online reviews
SMS Chat allows people to get in touch with you via any device
Segment customers so that they only receive relevant messages
Next Steps
See how YOVU Office Phone can work with you to build a plan that meets your needs and your budget. Get in touch now and start increasing your sales affordably